Record Breaking Blanket Making

At 4 a.m. on June 11th 1969 150 Kerry Sheep stood in a Witney field with a full year's growth of wool on their backs. Numerous excited and expectant folks stood alongside, and amongst them were 4 of England's leading sheep shearers, with shearing machines poised.

Early morning shearing is perhaps not so unusual in rural Oxfordshire, however this particular day in rural Oxfordshire was a little less than usual; but what was the occasion? and what's the Oliver connection?

Many of us will be aware that Witney is world famous for its Wool and Blanket trade, which had evolved over centuries from a cottage industry to a factory-based system. The name that is probably most synonymous with the Witney Blanket Industry is Early's, and 1969 saw the tercentenary of the Charles Early and Marriott (Witney) Limited Company.

1969 was a year full of celebrations marking 300 years of blanket making and June 11th was a special day in the calendar.

On June 6th 1906 a record was set when Early's produced six blankets in 10 hours and 27 minutes. On June 11th 1969 an attempt would be made to beat this long standing record.

The record attempt all kicked off at 4 a.m. when the shearers set to work. Clipping 12 pounds of wool in the first two minutes they were initially working at a rate of 1 sheep every 2 minutes but they were soon into their stride completing a sheep every 1 and a half minutes.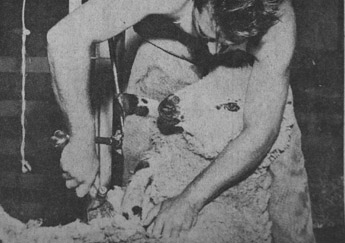 At 5.37 a.m. a moment of drama was experienced when a drive chain on one of the spinning mules jammed snapping 300 yarn threads. However 16 skilled men quickly set into action and repaired the fault without any significant delay.

During the record attempt the raw wool would be progressed through more than 20 processes including spinning, washing, weaving, milling, carbonising, dyeing, raising, binding and boxing and at 12.11 p.m. the first six blankets rolled off of the production line, each measuring 70x100 inches and dyed a deep 'fiesta' rose colour. The record had been smashed by some 2 hours and 16 minutes.

Those first 6 blankets were immediately taken by helicopter (carrying photographers and film cameramen) to Heathrow airport where 3 of the blankets were flown further onwards for display in Paris, Milan and New York.

In total 50 blankets were produced on the 11th, none to be sold and all to be used across the world in a promotional campaign later in the year. Today, in 2012 one of those 50 tercentenary blankets can be seen in its gold box at the Witney and District Museum.




So what of the Oliver connection?

Well, we do know that many Olivers worked at Early's during the 20th century, in fact several from one particular family branch from Finstock. However, on the day of the record attempt one particular Oliver family member, Geraldine Hitchman (nee Oliver), was very much in the thick of the excitement and playing a pivotal role in the record attempt.

The images below are of Geraldine at 6:53 a.m. during the record attempt just as the loom begins to produce the first blanket cloth.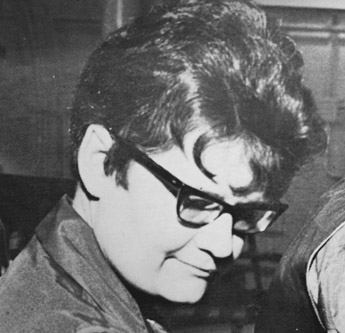 All of the above images are kindly provided by the Witney and District Museum.