Workhouse lives

The children of Robert and Susannah Oliver have been the subject of several stories discussed on the website. Their first child James (b.1825) so tragically died in the Cataraqui disaster of 1845, their second son John (b.1827) together with his wife Jane (nee Tidmarsh) had three children including Philip and Fanny (married name Hunt) who's families we've traced in detail, and of course their 4th son is Stephen (b.1833) who we have a prisoner photograph of and who's family has been traced to descendants in as far off places as Canada and the USA.

The following diagram illustrates the whole family of Robert and Susannah:





This article is concerned with Robert and Susannah' first daughter, Harriet b.1838, and whilst there are no bells and whistles so to speak, I think it describes and traces a life of interesting occupations, in a variety of English locations all whilst raising a family and experiencing the the high's and lows that that could bring in Victorian times.

Harriet married Charles Sommerton in 1860, the son of an agricultural labourer/Parish Clerk of Noke, Oxfordshire. Not long after their marriage in 1860 in Oxfordshire we find Harriet and Charles on the 1861 census living on the New Ampthill Road in central Bedfordshire. Charles can be seen working as a Rail Porter, the original main Bedford station that opened in 1845 (now the smaller Bedford St Johns station) is along the Ampthill Road.

1861 Census




By the time of the 1871 census the family has grown with the addition of four children, Thomas Embrey (b.1862), Emily Susan (b.1866), Clara (b.1869) and Frederick Charles (b.1870). The family also moved between 1862 and 1866 to Brackley, Northamptonshire, which is where the family can be found in 1871.

Charles' occupation in 1871 is fellmonger, carrier and dealer; a fellmonger being a dealer in hides or skins.

1871 Census





In 1881 William Henry (b.1873) is now also present and at some point after his birth the family have moved again, this time to 2 the High Street, Grimsbury, which is an eastern part of Banbury. We also know that two further children were born and died between 1871 and 1881, Sydney (b.1872, d.1872) and Charles (b.1875, d.1878).

Charles is now operating a Bakery and Grocery business, his eldest son Thomas Embrey also works with him. It appears that the property 2 High Street is both the business premises and the family residence.

1881 Census




By the 1891 census Harriet and Charles' five children have embarked upon their own lives and Harriet and Charles themselves can be found in another new location and having undertaken fascinating new occupations. Both are found working as poor law officials within the Christchurch District Union Workhouse, Hampshire, Charles as a porter and Harriet as a General Assistant.

1891 Census





The first Christchurch workhouse was erected in 1763-4 and was sized to hold 150 people, however due to poor conditions within the aging building and an increase in population a new workhouse was erected in 1881, sized to accommodate 200 people. It's this workhouse location, on the Fairmile Road, that Harriet and Charles were employed.

In 1891 the workhouse had approx. 175 people within in, ranging from 1month old infants to people in their 90's, Shoemakers, Bakers, Labourers, Shepherds, Gardeners, Blacksmiths and the infirm all included.

The workhouse in Fairmile became Christchurch Hospital in 1948 after the Welfare State was introduced and later a large proportion of the site was turned into housing in 1995. The original entrance, which housed the porters quarters, possibly where Charles worked, was incorporated into the redevelopment per the photograph below.




In 1895 their eldest daughter Emily Susan died, aged 29. In 1891 Emily is found in Shipley, Yorkshire, boarding with the Chapel Keeper and his wife, Emily' occupation is listed as Evangelist.




By 1901 Harriett and Charles had moved on again at least one more time and its clear that their time at Christchurch was both preparatory and successful, as in 1901 they are Master and Matron of the Ringwood Union Workhouse, Hampshire.

1901 Census




In 1901 the workhouse held approx 35 people. including many widowed male labourers in their 60's, 70's, 80's and 90's.

As the 1905 photograph below illustrates, the workhouse which was built in 1725 was based on a row of cottages and this picture shows very much how it would have looked when Harriett and Charles were Master and Matron.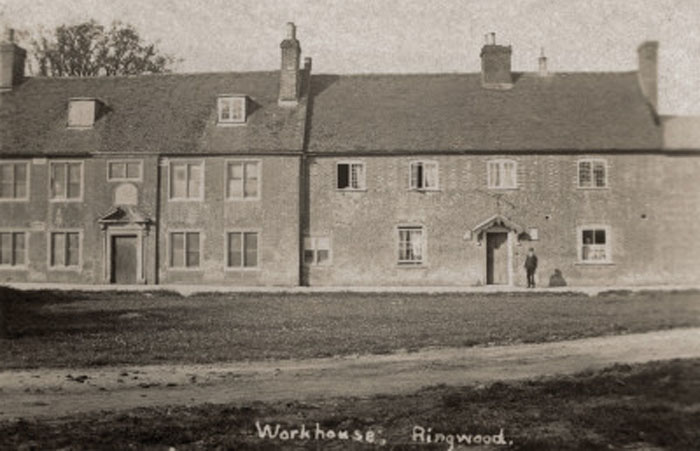 By the time we reach the 1911 census both are retired pensioners. They have also moved again, however, this time back to South Street, Grimsbury, Banbury where they were living in 1881, number 1 rather than number 2 this time.

1911 Census





The 1911 census also captures their 50 years of marriage. Here is a diagram including their seven children.





Interestingly, in 1911, next door at number 2 South Street remains their son Thomas Embrey who has married, had 5 children of his own and has continued to run the Bakery he and his father ran in 1881.




And what of the other children, Clara, Frederick Charles and William in 1911.

Well Clara to some extent followed in her parents footsteps and can be found working as a sick nurse at the Banbury District Union Workhouse.





Frederick has married, has two children and he and his wife Jessie are School Master and School Mistress in Toddington Bedfordshire.





And finally William is also married with a small child and is at 24 the High Street in Marlow, occupation Tobacconist.





But this is really the story of Harriet and Charles; it looks like the children will have their own interesting stories to be discovered.