Fantastic photograph, Albert Oliver and family

I have come to learn that tracing a family history and searching for colourful facts, happenings, stories or documents can sometimes be hard work with little reward for days or weeks at a time.

However, every now and then we can be emphatically reminded of why its such an addictive pastime, our enthusiasm can become reinvigorated within a matter of seconds, and suddenly we remember ' oh yes, this is why we do it'.

And what brings all this on, well, when we find a real piece of family history 'gold dust'.

I think I've probably trawled the local studies books within the Witney Library more than your average library goer, checking through them again and again and again, then one day, quite unexpectedly, just 4 or 5 pages into a book that I hadn't looked through before, staring up at me was the possibly the most shiny, fantastic piece of oliver family 'gold dust' I had discovered to date; it was a photograph.

I love old photographs and I love putting faces to Olivers that previously I've only had sitting in my database of names as black and white text. Family group photographs are extra special, parents and children all together. This photograph however, was extra extra special in my opinion, not only did it have the parents, not only did it have the parents and their children, no, this photo had parents, their children, their children's husbands, wife's and partners, and also their children's children - wow.

There was just one family group within the photograph named, and the caption stated 'The Oliver family of Stonesfield', however, based on previous research I had a good idea of which leg of family it was, and a pretty interesting leg of the family too.

Herewith I'd like to present that picture and also introduce who I believe each of those in the photograph is.

Firstly, just the photograph, 30 Oliver's all of the same family branch all together, wonderful.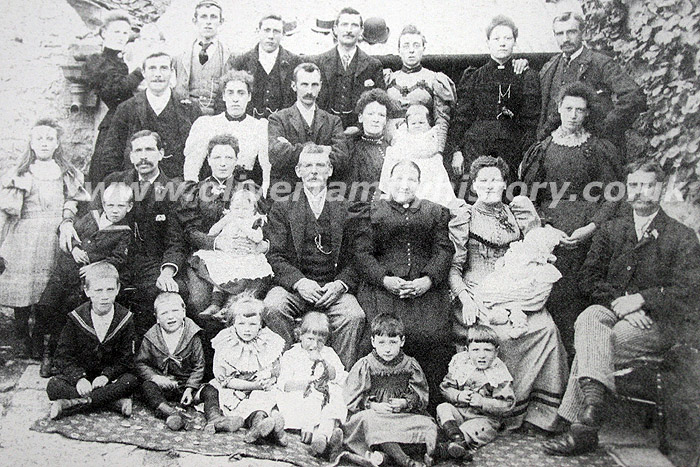 The primary lead to unravelling it all were the names that were included with the photograph and upon checking dates for these people the year could be established and the rest of the family members could be slotted into place around them.

So, when was the photo taken and who is everyone?




This is the family of Albert and Hannah Oliver, Albert being son of Solomon and who also appears on this website for his role within the Stonesfield Friendly Society.

The date of the photograph is almost certainly 1895 and one of the most likely reasons for the gathering is the baptism of Maud Eveline Austin (21).

Here are the conclusions as to who is who.

1 - Albert Oliver b. 1843
2 - Hannah Oliver (nee Hanwell) b.1843
3 - Anne Maria Woodward (nee Oliver) b.1864
4 - Albert Woodward
5 - Eva Woodward
6 - Ernest Woodward
7 - Thomas Woodward
8 - Arnold Woodward
9 - Miriam Woodward
10 - Ernest Albert Oliver b.1866
11 - Maria Oliver (nee Collins
12 - Margaret Oliver
13 - Ada Louisa Bayliss (nee Oliver) b.1869
14 - Joseph Bayliss
15 - Lily Bayliss
16 - Beulah Bayliss
17 - Hetty Bayliss
18 - Lily Selina Austin (nee Oliver) b.1870
19 - Thomas Austin
20 - Ernest Austin
21 - Maud Austin
22 - Beatrice Agatha Bartlett (nee Oliver) b.1871
23 - Frederick Bartlett
24 - Kate Bartlett
25 - Miriam Ellen Oliver b. 1874
26 - Benjamin Maisey? (Married Miriam in 1903)
27 - William Edgar Oliver b.1876
28 - Elsie Johnstone? (Married William in 1897
29 - Thomas Hanwell Oliver b.1879
30 - Alice Emily Oliver b.1896


There are also some very poignant aspects to the photograph, Margaret Oliver (12) died very soon after this picture was taken, Hetty Bayliss (17) also died aged just 10 and Ernest Austin (20) died during WWI.

This is however undeniably a truly Fantastic Family Photograph, and although not my own family line, it is quite possibly one of my favourite finds to date and one that many people with Albert and Hannah in there direct family line should be VERY excited about.

Enjoy!