The Welsh connection

As we all now know our Oliver family roots go back over 300 years in the small rural villages of Stonesfield, Combe and Finstock and with the exception of those who served their country in the forces or those who were transported to far away lands by way of punishment, for the first 150 years between 1700 and around 1850 many generations of Oliver's lived and existed almost exclusively within these small village communities. During the latter 150 years however, from the 1850's onwards, kick started no doubt by the industrial revolution, we've seen more and more departure from those rural homelands out to a wide variety of locations both across the UK and much further a field to places like Canada, Australia and the USA.

The 'Welsh Connection' is regularly mentioned as part of our Oliver story and today there are many descendants who quite rightly talk proudly of their Welsh ancestry. This article looks at the early roots of the Welsh connection and highlights one of those very early adventurous and pioneering Oliver's who departed Oxfordshire for a new life elsewhere.

It all begins on the 5th March 1826 when Edwin Oliver, the 3rd child of George Oliver and Mary Anne (nee Rowles) was baptised at St James the Great church in Stonesfield.




For further context, Edwin's father George was the brother of Joseph Oliver who fought at the Battle of Waterloo, and both were son's of David Oliver who was at the forefront of the introduction of Methodism into Stonesfield and who we've now also discovered liaised via letter with The Reverend William Buckland regarding the discovery of bones (possibly megalosaurus bones) in the Stonesfield Slate pits.

Its unclear precisely when Edwin left Stonesfield and why but at time of the 1851 census we find an Edwin Oliver, b.1826, Stonesfield, Oxfordshire, working as a farm labourer and lodging with a Mr and Mrs Thomas in Llanilltern which is near Cardiff in the Vale of Glamorgan, Wales.




Its here that the Welsh Oliver Connection starts!.

By the time of the 1861 census things had moved on significantly for Edwin and we find him married with 3 young children and the family have moved north to Brecknockshire (also known as the County of Breconshire).

In addition to his wife and children we see the family enjoying the luxury of a General Servant.




Tracking back between 1851 and 1861 we're able to locate the following records to support the 1861 census information:

Marriage:
Edwin Oliver and Elizabeth Phillips at St George Hanover Square, London, Apr-May-Jun 1855


Births:
George Oliver, Cardiff (1837-1974), Glamorgan, Monmouthshire, Apr-May-Jun 1856
John Mark Oliver, Cardiff (1837-1974), Glamorgan, Monmouthshire, Jan-Feb-Mar 1859
Edwin William Oliver, Crickhowell, Breconshire, Monmouthshire, Jan-Feb-Mar 1861


As we then move forwards to the 1881 census we are able to see a 4th child, Ambrose David.

Birth:
Ambrose David Oliver, Crickhowell, Breconshire, Monmouthshire, Apr-May-Jun 1863





The arrival of Ambrose in 1863 completes the picture in terms of Edwin and Elizabeth's children, as illustrated below.




George and John were born in Saint Fagans Cardiff, the 1881 shows us that Edwin was born at a place called Gliffaes Lodge, Cwmdu, and finally Ambrose was born in Llangynidr, and the small village of Llangynidr become a longer term settlement for the family.

Taking Edwin's occupation of Gardener and the fact that his son Edwin was born at Gliffaes lodge its quite likely that Edwin worked as a gardener on the Gliffaes estate, now the luxury Gliffaes Country House Hotel.

The images below show the estate around the time of Edwin's life and certainly illustrate a wonderful setting in which to spend ones working days.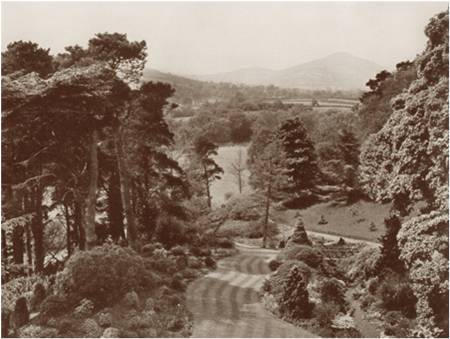 Soon after the 1881 census the family were cruelly struck by the death of their son Edwin, who died on the 3rd of July 1881, aged 20.

The Llangynidr parish records record his burial on the 5th of July and his gravestone stands in the yard of the small village church.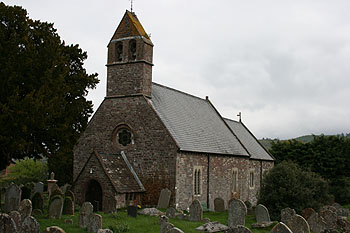 Edwin and Elizabeth's 3 other sons George, John Mark and Ambrose all married and raised families of their own, their marriage are illustrated below.




Edwin's wife Elizabeth died in 1891 and on the 1901 census Edwin is 74 and continuing to work as a Gardener.





The death Edwin himself is recorded in the Llangynidr parish records on February 14th 1911, aged 83, and it also tells us that the last period of his life was spent in the Crickhowell Union Workhouse, the building of which is now Ty Croeso Hotel & Restaurant.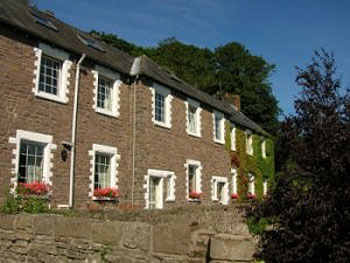 What follows on from these early Welsh Oliver's are many more births, marriages and descending generations who all share the common link back to Edwin and Elizabeth who made what may have been tough decisions to leave their English homelands and take the opportunities to share their lives together and raise their family in Wales.

Today we're very fortunate to have located three or four descendants of Edwin and Elizabeth through this website and through their kindness we're able to see the following two very early photographs. The first is of John Mark and Mary Oliver and the second is of Winifred Louise Oliver, aged 1 in 1879, the daughter of George and Emily Oliver.


Photographs kindly shared by Valerie Sluman, granddaughter of Winifred Louise Oliver.