Lost to a tragic maritime disaster

Imagine; its 1845 in Victorian England, you're a young man, 20, you were born and raised in a rural village in Oxfordshire, your work options are mainly agricultural, you have a mother and father, 7 brothers and sisters and a large extended family throughout the local community.

If you had the opportunity to emigrate to the other side of the world, to Australia, would you?

What a decision it would have been, but one that James Oliver made.




On the 20 April 1845, the emigrant ship The Cataraqui (or Cataraque) set sail from Liverpool destined for Melbourne, Australia. Among the 409 onboard, 42 crew and 367 emigrants, 15 passengers were from Stonesfield, William Barrett, his wife and 4 children, James Rolling, his wife and 6 children and finally, travelling alone was James Oliver, the first son of Robert and Susannah. All were destined for new lives in Australia.




It's reported that some three and a half months later, and into the month of August, the journey had been largely uneventful. In the early hours of August 4th however, the journey took a tragic and disastrous turn.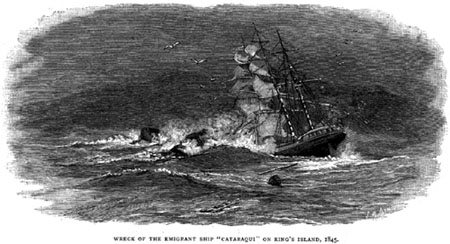 The Cateraqui had reached the Bass Strait between mainland Australia and Tasmania where it encountered a severe storm. Without warning the ship was soon cast onto jagged rocks just off Kings Island to the north west of Tasmania where huge waves swept on board washing many overboard within minutes. Tragically, throughout the hours that followed the ship gradually broke up taking all but one emigrant and eight crew member lives, including that of James Oliver.

The nine survivors remained on Kings Island for 5 weeks until they were rescued after burying 342 bodies in 4 mass graves. Below, is a pencil drawing from 1854 of the largest grave, some 245 bodies.

A very sad and tragic event.