Sole Survivor of H49 in WWII

The family photograph below is an absolute gem in its own right and shows the eight children of George William Oliver b.1882 (pictured in the frame) and his wife Mary Anne nee King (seated). The eight children (left to right) are Olga, Mary Ann (Mollie), Frederick, Evelyn, George, Charles, Gladys and Mabel and they are all great-grandchildren of Stephen Oliver who was born in Stonesfield in 1832 and moved to the North East in 1871 (see the Prisoner Portrait article.




Digging deeper into the family and the lives of the children has brought to light many fascinating stories but few can be more sobering than that of George, seated in the photograph above.

George William Oliver was the eldest child of the family, born in 1904 in West Hartlepool. At the time of George's birth Hartlepool was an area of heavy industry, namely Ironworks, it was also a major seaport and ship building town. In 1913 no fewer that 43 ship-owning companies were located in the town with responsibility for more than 200 ships. With the onset of World War I in 1914 this made Hartlepool a key target for a German attack, and attack they did. One of the first German offensives of World War I against Britain was a raid on Scarborough, Hartlepool and Whitby on the morning of 16 December 1914, when units of the Imperial German Navy bombarded Hartlepool, West Hartlepool, Whitby and Scarborough. Hartlepool itself was hit with a total of 1150 shells, killing 117 people.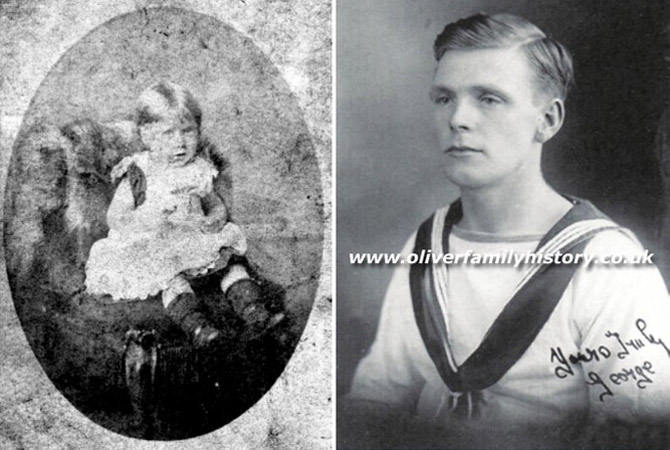 George joined the Navy on March 10th 1927 as a Stoker. His training was completed at St Budieuse Royal Nay Barracks and in September 1927 he was drafted to HMS Berwick were he left for China, not returning until November 1929. In April 1930 George joined the submarines, his first submarine was L19 which he stayed with until 1935 when he then joined what was the fastest submarine in the British Navy, HMS Thames.

In June 1937 he was made Acting Leading Stoker and spent the next two years aboard a variety of vessels in a variety of locations including HMS Cyclops (a submarine repair and depot ship) in Malta and the L26 Submarine in Barrow-in-Furness. On 9th March 1939 having completed 12 years service and believing his Navy life was over George brought a one way ticket from Portsmouth to West Hartlepool and travelled back home.

George would see just 3 to 4 months as a civilian as on the 31st July with the increasing likelihood of war breaking out in Europe, he was called up to the reserve draft on July 31st 1939. By 21:00 the same day he was at Fort Blockhouse in Portsmouth and was drafted to submarine H49.




With the German invasion of Poland on September 1st 1939, World War II was initiated in Europe.

George and the crew of H49 where stationed in various locations throughout 1939/1940 including Weymouth, Sheerness and also Lowestoft where they met a German bomber dropping 3 bombs on the dockyard, 2 hitting the water and one a direct hit on an air raid shelter killing 21 dockyard workers. In early October 1940 H49 was positioned in Dover completing regular patrol trips. October 18th 1940 would be a defining day for H49 and its crew and with the help of various sources including Georges own diary we are able to discover more about what happened that day.

H49 left Harwich for the Dutch Coast during the night of the 17th/18th October and George took his turns on watch and in between took an opportunity to eat and take the odd hour of sleep. At around midday the decision was made to surface in order to verify position and draw oxygen into the submarine. George was on watch in the Engine room accompanied by the 'usual sounds of a H boat', the whines of the motors and the telemotor accumulating pressure as the submarine approached the surface.

Immediately George knew something was amiss because within 20 seconds of surfacing the klaxon was fired for a crash dive. Open main vents - Hydroplane hard to dive - main motors full speed ahead - get down to sixty feet as quickly as possible; a procedure George and the crew had regularly trained for many many times but this was no training exercise.

The initial fear was being bombed by aircraft, but H49 made it down deep with no impact. Everything was normal for a period, but they soon realised they had been located. The crew stood at their stations, tense, eyes skinned for any sight or sound, but nothing. 45 minutes after the crash dive suddenly depth charges exploded, four or five consecutively, then four or five more, H49 was being shaken violently, lights were out, globes were smashing, everywhere was pitch black, there were about twenty five explosions all together, and then, silence.

All of the crew were quiet and started checking through the submarine, George found a torch and replaced some lights and plates in the engine room. Quickly the effects of the explosions became clear, they were eighty feet down and on the seabed, the hatch was leaking, as was the main air line, fuel gauges were leaking, clocks had stopped, floor boards were all over the place, water was in the bilges, the life space and the conning tower were flooded, it was devastating. One of the crew called Jackie Hobbs asked George if there was any hope of getting up, George answered 'Of course Sidder'.

George went to the motor room to fetch a spanner for tightening up the periscope glands, as he reached into the tool box he heard a tick tick, five or six of them, and down came the depth charges again, and again the lights went about and the submarine shook even more violently, so violently George could hardy keep his feet. Thirty minutes later a third attack causing a large column of oil and water to erupt from the sea. Eight minutes later, yet another attack, three more explosions.

George remained at his post throughout this entire barrage of attacks, even bravely going without a DSEA (Davis Submerged Escape Apparatus) as there were not enough to go around and leaking air cylinders had increased the pressure inside the submarine so much that breathing become incredibly difficult. With the air pressure so great George was slipping into and out of consciousness and upon the final explosion George found himself hurtling through the engine room towards the open hatch where he was spat out like a cork from a champagne bottle. Now on the surface and regaining consciousness George scoured around to see if he could spot any of his crew mates but all he could see was a red indicator bouy. Within twenty minutes he was picked up by German trawlers and taken to Harlegan. He was the sole survivor of H49, his 26 crew mates, his friends, were all lost with H49. George spent the rest of the war in Polish and German Prisoner of War camps eventually returning home to Hartlepool.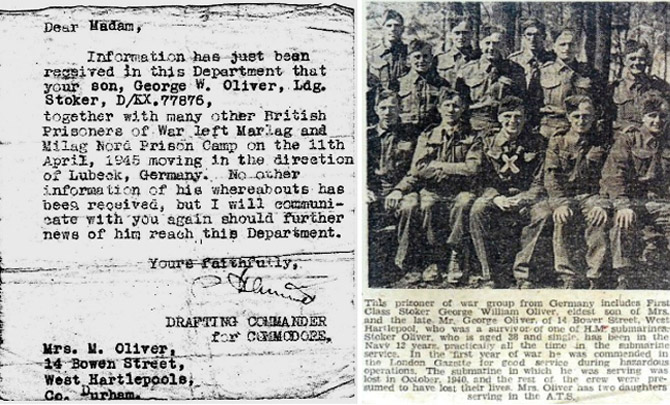 George was awarded the Oak Leaf and the wreck of the H49 is now a war grave. George lived to the grand old age of 92 and his survival that day in 1940 was, well, simply an amazing and miraculous escape.

George, we tip our hats to you.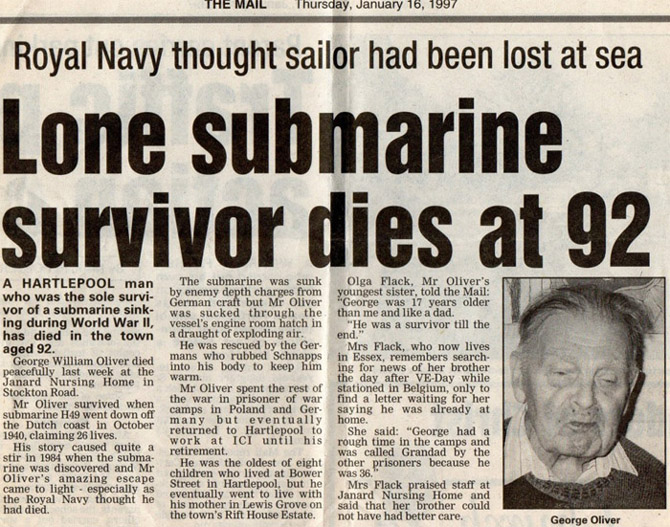 Images kindly shared by Christine Frahm and Phil Hume.