Oliver men on Oxfordshire War Memorials

There are thousands and thousands of War Memorials across our cities, town and villages which all serve to remind us of the men and women who have died as a result of war time conflict. Parishes, big and small alike, were unimaginably devastated by the loss of 'their own people'. Thankfully, the sacrifices made by those brave men and women are not forgotten, most notably as people continue to pay their respects each year on Remembrance Sunday.

To date, we know of 4 Oliver men who are remembered on War Memorials across Oxfordshire, all of which died in WW1. Below is short paragraph on each of these men.

Private Charles Stephen Oliver - Finstock War Memorial

Charles Stephen Oliver is one of 21 men from Finstock and Fawler who are remembered on the War Memorial in Finstock. Many of the surnames, like Oliver, are surnames with long and deep histories in the village, Busby, Hadland, Langford and Pratley all included. Charles was baptised in Finstock on August 5th 1894, the seventh of eight children to Charles and Charlotte Oliver, who were shopkeepers in the village. In 1914 Charles was undertaking an apprenticeship as a Wheelwright when the outbreak of WW1 in June saw Charles sign up to service in the 1st/4th Oxfordshire & Buckinghamshire Light Infantry, his date of entry into the war was the 25th June. Having fought in and survived the Battle of the Somme, one of WW1's longest and bloodiest battle, Charles died during heavy attacks on the 19th October 1917. He is commemorated at Hooge Crater Cemetery in Belgium and also remembered on his mothers gravestone in Finstock churchyard.




Private Philip Oliver - Combe War Memorial

Philip Oliver was baptised in Combe on October 5th 1890, the seventh of nine children to William Augustus and Elizabeth Oliver. Philip was a regular soldier with the 2nd Battalion Grenadier Guards and joined the war barely a week after its outbreak, travelling on the 14th August 1914 from Southampton to Le Havre aboard the Cawdor Castle. Philip was immediately engaged in intense and active battle including the first Battle of the Marne and within just 6 weeks, Philips battalion had lost 150 men killed or missing and a further 250 injured of an original 1000. Into October the battalion diary records more huge numbers of casualties from shelling attacks but also records a number of strong and successful counter-attacks. On the 17th November 1914 the diary records that under heavy shelling 10 men were lost, one of which was Philip, aged 24. Philip is buried in Poperinghe Old Military Cemetery, west of Ypres in Belgium and is remembered on the stone memorial on the village green in Combe. There is also a photographic memorial inside Combe Church where the faces of Philip and the other brave men of Combe are poignantly remembered.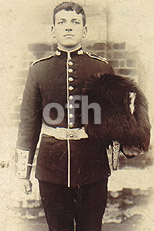 Able Seaman Ernest Austin - Clanfield War Memorial

Ernest William Austin was born in 1892 the only son of Thomas and Lily Selina Austin (nee Oliver). Ernest and his sister were both born in Clanfield after their parents had moved to Clanfield from Stonesfield after they married. In 1911 Ernest is recorded as a Grocers Assistant in Clanfield but come WW1 Ernest served in the Royal Navy. Ernest died aged 26 on the 1st October 1918 aboard HMS Wear, his cause of death was the influenza pandemic of 1918/19, commonly known as Spanish flu and regarded by many as the most devastating epidemic in recorded history. Ernest's death also has a specifically sad aspect for he had travelled home just two months earlier and had married his bride Gladys Mildred Smith. With the war raging Ernest was required to return back to service on his ship almost immediately after the marriage where he remained until he died in October. Ernest never made it back again to see his new wife. He is remembered on the stone war memorial in Clanfield and also commemorated in the Malta (Capuccini) Naval Cemetery.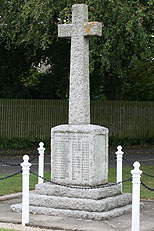 Sergeant George Henry Hedges Morris - Wootton War Memorial

George Henry Hedges Morris was born on the 10th April 1895 the illegitimate son of Jane Morris and George Henry Hedges, both of Wootton near Woodstock. His parents never married and on the 1901 census we find George with his Grandparents whilst his mother worked as a sicknurse for the local blacksmith's family. George's mother married Frank Oliver in 1902 and by 1911 aged 15 George was working as a farm labourer in Wootton. George entered WW1 on the 22nd July 1915 and serving in the Oxford and Bucks Light Infantry he rose to the rank of Sergeant. Little more than 1 year later on the 3rd September 1916 George was killed in action, aged 21. He is remembered on the Wootton church memorial and also commemorated at the Guillemont Road Cemetery in France. George's Memorial Plaque, referred to by troops as 'the dead man's penny' is still safely and securely kept within the family today by one of his nephews (sample image include to the right).




With the last WW1 veterans now departed and WW1 veteran numbers in decline its now more important than ever that we remember the sacrifices that Charles, Philip, Ernest. George and all the service men and women made.

The photo of Philip Oliver is kindly provided by Linda Tomline and the photo of Ernest William Austin is kindly provided by Rosemary Smith.